AIM Vision
ERP software optimized for automotive suppliers
At the heart of AIM Vision, our primary modular-based ERP software solution for automotive suppliers, are EDI and bar code labeling applications. They include embedded business logic for more than 450 OEM and sub tier trading partners with more than 1,800 AIAG standardized bar code label formats. AIM Vision provides seamless business processing with no mapping required. Manufacturers gain operation efficiency with MRP, CRP and MES integrated into the AIM Vision ERP software solution.
AIM Vision ERP modules, along with the latest in Android-based mobile technologies, manage operations in the front office and on the shop floor for automotive suppliers and other manufacturers keeping every element of the manufacturing process trackable, traceable and efficient.
Shipping and receiving departments achieve improved product management, inventory control and supply chain coordination.  AIM Vision offers EDI and supply chain logic to manage the import of goods, schedule the arrival and account for their delivery against multiple customer releases.
With AIM Computer Solution program logic, suppliers and manufacturers don't have to learn to code – the solution takes care of that.
We collaborate on financial software development with the experts at Microsoft and have certified integration of of financial reporting with Microsoft Dynamics GP.
AIM Vision is flexible and assists you in being responsive to customer requirements. It is a trusted solution.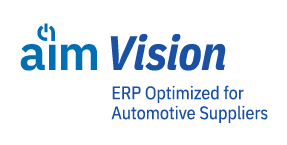 Over the past seven years, our company has been working with AIM Vision. The software has provided us with a great solution for Repetitive Manufacturing and is very strong in providing a solid solution for EDI, Inventory Control, Production Posting, Purchasing, Shipping and Receiving. On the Accounting side the software talks seamlessly with Microsoft Dynamics GP.

Overall, we have been happy with the Support from AIM and the overall software. Great Group of people and they are based out of Michigan. Prior to AIM Vision, we used another ERP package for over 7-years and walked away from it; then moved over to AIM Vision.

Accurate Gauge & Mfg., Inc., Manufacturing Engineer

I like the system's versatility because you can use it just to translate the EDI protocols or to ship all your finished goods and labeling system using Kanban systems; it will ensure the correct performance of your shipping process.

Manufacturas Estampadas. S.A. de C.V. (Manesa)

Before AIM we didn't really have inventory control, we were guessing at everything.  Now with AIM Vision we have better inventory control, we know what we have, where it is, what warehouse it is in; I'd have to say it's about 97% accurate.

Dajaco Industries

Dajaco Industries

AIM has helped us because EDI, ASN and Bar Codes are seamlessly integrated into the software so we never have to have a special person handling it.

Grant Industries

AIM Vision has been an excellent vehicle to streamline and our shipping processes and improve our efficiencies to shipping product and supporting our customers.  So much so, that General Motors has recognized us as a Supplier of the Year recipient.  We feel that the AIM Vision system has been instrumental in improving all facets of our business.

LTC Roll & Engineering

After implementing AIM we were able to reduce our required staff from 7 to 3 full-time supervisor employees for our 80 person production facility.

AFC Stamping & Production Inc.